The Longest Day- June 21, 2023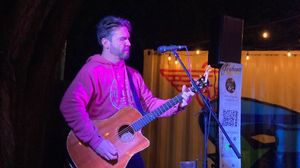 What is the Longest Day?
The Longest Day is a fundraiser for the Alzheimer's Association where I play a 12 hour concert in order to raise $15,000 by donation.  The event came from a time someone asked me how many songs I know, and I had no idea.  He suggested, that if I know that many songs, I do a fundraiser for Alzheimer's research.  After connecting with the Alzheimer's association, we decided that this idea would best be paired with their "The Longest Day" fundraising event, wherein, individuals across the metroplex participate in their own, self contained, fundraisers.  
The Longest Day- 2023
The Longest Day will be June 21, 2023
The concert will be held from 10:00 AM to 10:00 PM outside Hotel Vin and Harvest Hall in Grapevine, TX.
I will perform a mix of songs, all from memory, without repeating a single song, for 12 hours.  In this time, my team of volunteers and I will be accepting donations on site, through this and other pages online, and by mail.
Please email joshua@joshuaingram.com if you have questions about your donation.
| Board name | Topics | Last post |
| --- | --- | --- |
| Please let us know if you have any questions | 0 | |
| Do you have an idea of how to help or would you like to know what we need? | 0 | |